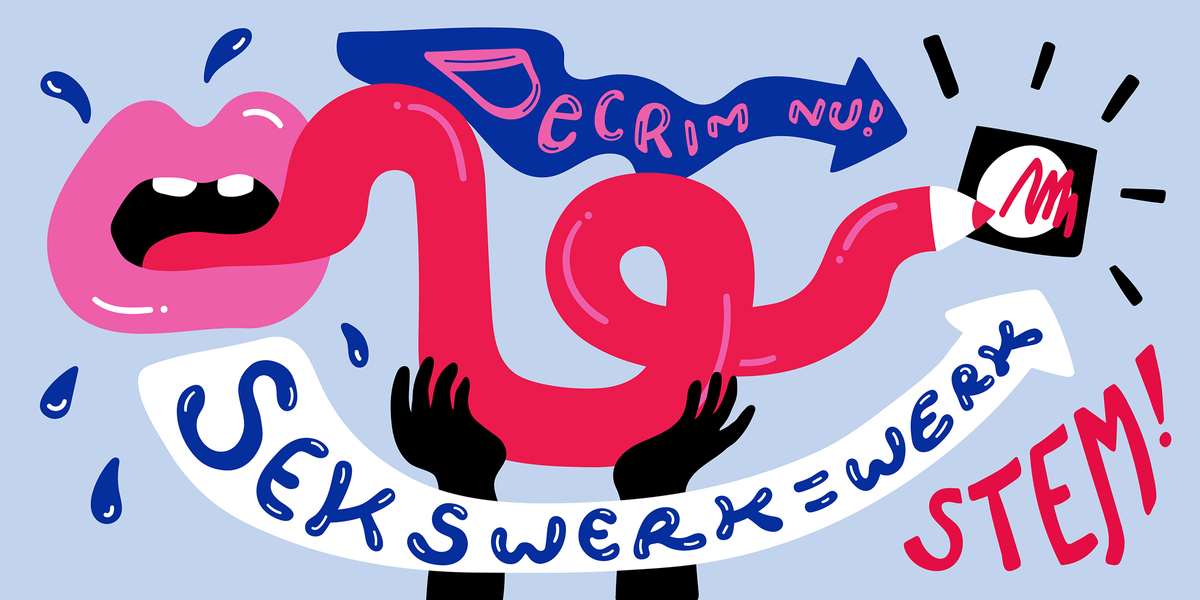 Sex work is politics and coming March 15th, 16th and 17th it's time for our general elections. There are lot of political parties to choose from, and because we get to it takes a lot of time to dig through the different programs, we asked Moira Mona to do that for you.
Lees dit artikel in het Nederlands.
Sex work is a topic that is hardly mentioned in the online election guides, all the while politics has a lot of influence on our safety and well-being as sex workers. To find out if sex work is a topic of interest to a political party, I checked what all the different programs say about sex work, prostitution and whether they equate trafficking in women/humans with offering a paid sexual service.
There are 37 parties participating in the 2021 elections, twenty of which in all constituencies. I checked only those twenty parties.
Sex worker Juno Mac explains in her TED Talk "The laws that sex workers really want" that there are roughly four different types of sex work policies: full criminalisation, client criminalisation, regulation and decriminalisation. Most parties use vague terms when it comes to sex work, so I've categorized them for you, according to those four types.
Criminalisation
Under criminalisation, doing sex work is a crime. Which means you can be sent to jail for doing your job. Doing business with a sex worker, for example as a client or as a so-called 'third party' (landlords, drivers, telephonists, accountants, managers etc) is also prosecutable. In practice, this for instance results in colleagues being evicted from their homes by landlords. Who in turn risk a conviction for human trafficking. Or for running an illegal brothel when renting out a house to a sex worker.
The SGP is the only party in the Netherlands that explicitly pushes this. They mention a total ban on prostitution and are in favor of customer criminalisation. Their program also explicitly mentions that action should be taken against pornography, but it does not say how they intend to do that.
The SGP also believes that the Personal Data Protection Act stands in the way of combating human trafficking. From practice we know that this argument is often used to violate the privacy rights of sex workers. Especially for us sex workers, privacy is incredibly important. Not only because we risk arrest and fines, but we also run the risk of stalking, robbery and blackmail.
Client criminalisation
Under client criminalisation, also called the Nordic model, Swedish model or end-demand, a sex worker may offer a paid service, but it is prohibited to do business with a sex worker. Clients and third parties risk jail time. Colleagues in Sweden, Ireland and France report that since this model was implemented in their countries, they experience more violence, it is harder to make ends meet and they experience more exclusion and discrimination.
The ChristenUnie is in favor of such a law. They want to introduce the Nordic Model and a 'pimp ban'. In the run up to the introduction of the Nordic Model they want all sex workers in the Netherlands to register and meet a language requirement.
Regulation
In the Netherlands, sex work is legal but it is 'regulated'. In 2000 the brothel ban was lifted. Our workplaces such as private houses, clubs, escort agencies and other sex businesses are now regulated through municipal permits. In the Netherlands, this often makes us dependent on a licensed brothel owner to be able to comply with all the rules. So sex work is allowed, but only if you as a sex worker and third party follow the rules. Several political parties want to change the rules that are currently in place, mostly to our disadvantage.
CDA lobbied for the introduction of the Swedish model last year. But during their member meeting they decided against putting that in their election program. They now call it 'a model based on equality'. They also want to increase the responsibilities of clients, raise the age limit for legally offering a paid service to 21, and introduce a 'pimp ban'. Furthermore, CDA would like to protect women in the sex industry, whether they want to do the same for non-binary people and men remains unclear.
The 'pimp ban' is a recurring theme in the programs. For example ChristenUnie and PvdA also mention it. That may not sound so bad, except that exploitation, forced labor and rape are already criminalised. So a 'pimp ban' has a different purpose.
Earlier, a bill for a pimp ban was rejected. On paper, the law also criminalized partners, accountants, landlords and adult children of sex workers.
The SP combine their views on prostitution and human trafficking in the same chapter; they are in favor of tougher action against violations. D66 opposes further criminalisation, the 'pimp ban' and registration. They also argue for clear national legislation. However, in the past four years they have committed themselves (through the coalition agreement) to the WRS. You know, the law that sex workers have been fighting the past few years or so.
Decriminalisation
This is the model that many sex workers and human rights organizations refer to as the ideal model for giving sex workers equal rights and stopping exploitation. Simply put, decriminalisation means that there are no additional laws and regulations for sex workers compared to other professions and that sex work is not criminalized in any way. The same laws that are in place for other professions to combat exploitation and human trafficking, also apply to us and the age at which it is legal to have sex also still applies to sex work.
BIJ1 has a complete paragraph on sex work in its election program titled Sex work is work. They call for equal rights, no license requirement for self-employed workers, more say for sex workers on policy, less strict license requirements, no registration, keeping the age limit at 18, and of course decriminalisation of sex work! You would almost think they have a sex worker in their top 10*.
GroenLinks wants complete decriminalisation of sex work and mentions strengthening the legal position and safety of sex workers in their election program. They want to reverse repressive measures that drive sex workers into illegality, such as the permit requirement. If it is up to GroenLinks, sex workers will have the same rights and liberties as other people working a service job. The only thing that could be interpreted in ambigious ways is the following: "The government enables safe workplaces for sex work." This could mean that the government can decide whether an area such as the Red Light District in Amsterdam should close, as long as they provide an alternative.
The Piratenpartij has former sex worker Metje Blaak as lijstduwer and wants to switch to the New Zealand model, and thus favors decriminalisation. They want to get rid of all specific sex work regulations and treat the industry like any other service sector. They are also in favor of actively involving sex workers. However, they also want to reform copyright law and I am not sure if that will benefit sex workers selling (online) content.The other parties don't mention sex work in their program. Still, I would like to name a few.
Despite the fact that we are not included in the election program of the VVD, it was decided under the leadership of prime minister Rutte to exclude sex workers from the financial corona support. And to still impose a work ban on us, as the only contact profession.
The PVV does not mention sex workers, but parliament documentation shows that they are in favor of an age limit increase. And they are not flat out against deporting victims of human trafficking.
Partij voor de Dieren also doesn't mention sex workers in its program, but did talk about in a debate, saying that many of us don't have access to emergency support. So they do deserve a brief positive mention for that.
Furthermore, I found it hilarious that in the program of the Libertaire Partij does not mention 'woman' a single time.
Voting
The past year has shown that the current (now outgoing) cabinet has no idea what sex work entails and that their decisions put sex workers at risk. It is therefore important that we use our vote in a smart way. I hope that not only sex workers, but other people as well vote for a sex-worker friendly party. It is needed!
*They do! And for transparency; their number nine on the list is Yvette Luhrs, who is also the managing editor of this platform.